Reading Eggs Receives Education Apps Provider Award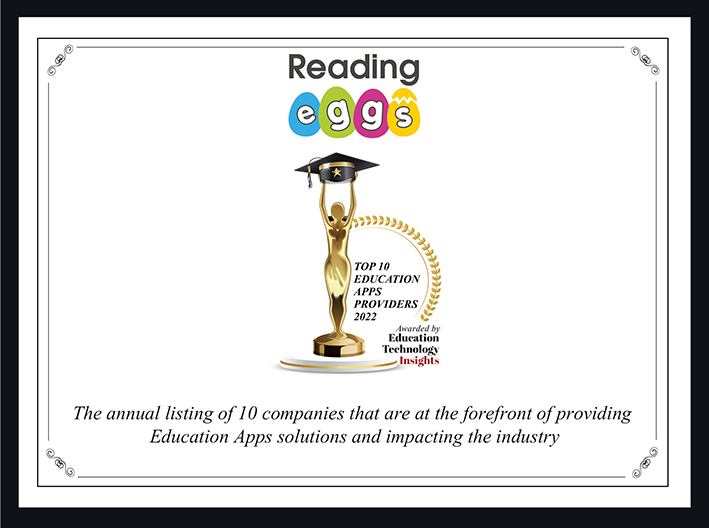 We are proud to announce that Reading Eggs has been awarded the Top Education Apps Provider Award for 2022. This honour was given to us by the team at Education Technology Insights and we couldn't be prouder to accept it. It shows the dedication and hard work of our team, and that the results we are getting for students and schools around the world is being recognised by leading publications in the space.
Education Technology Insights is an online publication with a global readership focused on technology in education. They show how modern teachers are using technological tools to take students' learning to new heights. The award given to Reading Eggs recognises leading education apps for their innovation and contribution to the online education space.
One of the contributing factors to Reading Eggs receiving this award is our ability to create engagement in learning and assist teachers and parents with the education process through the use of technology. Because Reading Eggs is highly personalised, interactive and safe, it takes pressure off teachers and parents, while being highly engaging for students. A student's experience is tailored to them by the use of a placement test which ensures they are engaging in lessons at the right level for them. This means they are challenged without becoming bored or frustrated.
Katie Pike, the Chief Product Officer at Reading Eggs, says
We launched Reading Eggs almost 12 years back, and since then, we have been able to make a huge difference in the lives of millions of kids as well as families".
One of the other contributing factors to the success of Reading Eggs is the support features available for teachers in the classroom. Currently used by 90,0000 teachers in over 12,000 schools worldwide, Reading Eggs gives teachers the ability to quickly assess their students and provides them with the option to give students individualised learning paths. This means students can work at different reading levels. The program is also available in three accents, American, Australian and British, ensuring students can listen to and pronounce words in a way that's appropriate for their geographic location.
We understand learning to read depends on listening to sounds and hearing the correct way words are sounded out, which is why we built the program in three accents," says Katie Pike.
Other contributing factors were the ability for teachers to set up assignments for individual students, small groups, and the whole class. Plus, automated reporting that gives instant feedback on students' progress at the individual, class, school or district level across various crucial literacy benchmarks. Reading Eggs also comes equipped with a teacher toolkit with worksheets, interactive whiteboard activities, teaching notes and posters.
Our team is always working to the philosophy of discovering better ways to learn and this shows in our product and being presented with this honour. We look forward to providing amazing service for our parents, teachers and students in the years to come.