Introducing the All‑New Reading Journal
There's an exciting new feature in Reading Eggspress. We are proud to announce the all-new Reading Journal is ready for our Reading Eggs Family!
The Reading Journal is an interactive, customisable feature to help kids build a stronger connection with the books they read and to encourage them to read for enjoyment. It does this by helping children track their progress and by making the experience of reading a personal one by giving your child free rein over what they would like to read and allowing customisation of the Reading Journal.
Your child will delight in making the reading journal their own, decorating each page with colourful stickers, tapes, and pins. They can also choose a unique Journal cover that suits their style with a new decorative theme each month. Most importantly, it helps them show off their achievements so they can feel proud of their reading efforts!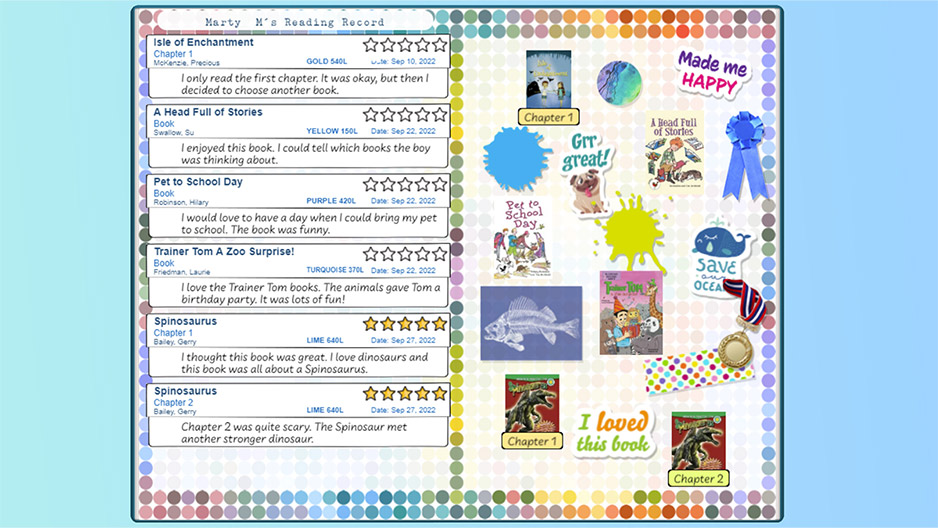 The Reading Journal will:
Motivate your child with literacy‑linked rewards (posters)
Celebrate and support their daily reading
Promote ownership of their reading journey
Support 'book talk' with the option to rate and comment on each book.
Additional features that support parents and learners and encourage reading for pleasure.
1. Milestones
The Reading Journal celebrates and rewards students for the number of days reading has taken place. Students pass milestones when they read for a set number of days, going up in increments from five days all the way to 200 days. At these milestones, they receive a virtual sticker pack, a downloadable certificate, and a motivational reading poster.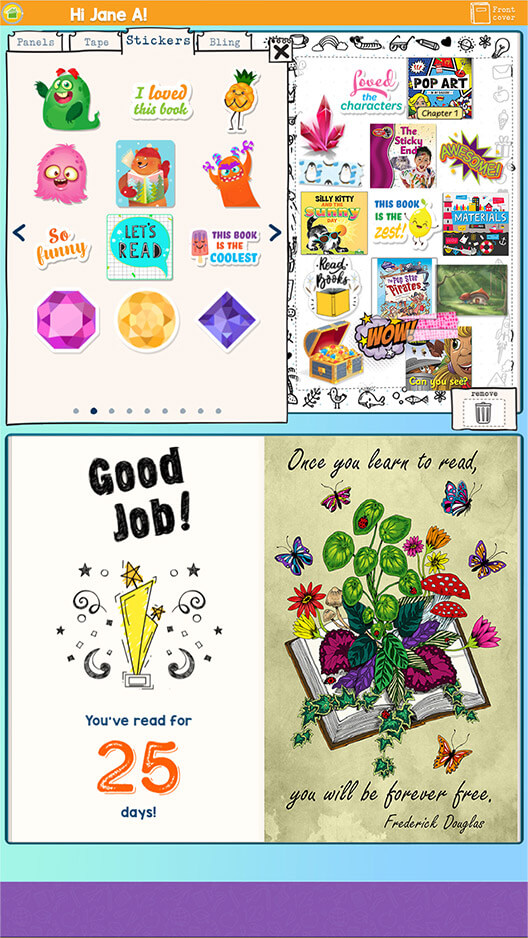 2. Offline reading ‑ coming soon
The Reading Journal celebrates all reading. Each journal page has an option for kids to record what that they have read offline. This is an optional feature that children can close.
Plus, to make using the Reading Journal even more convenient, we will be making it accessible through the Library and Reading Eggs in the near future.
Why should your child use it?
We created the Reading Journal to help foster the love of reading for children. A love of reading has been proven to have a positive impact on test scores, writing ability, comprehension and decision making. In fact, reading for pleasure has been identified by UNESCO as "the single most important thing that will make a child successful in life".
Additional benefits of reading for pleasure include
Improved grammar
Increased self‑confidence as a reader
Better problem‑solving abilities
An understanding of other cultures
Better general knowledge
Better mental health
An increase in school engagement and motivation
Communication with family and friendship groups improves.
As you can see, reading for pleasure and keeping a journal has a lot of things going for it. But this long list of benefits is only the beginning! So, if you have a little learner who could take their reading to the next level, jump into Reading Eggspress and get them to try the Reading Journal today! Login here
New Users
Get your free trial of Reading Eggs today and get them to try the Reading Journal for FREE. Claim my 30-day free trial