Learn to Read Program for Your Classroom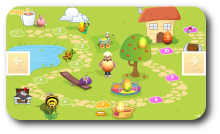 Reading Eggs is the award-winning online reading program that makes learning essential reading and phonics skills fun and motivating for young students.
The program has many features that support your core literacy teaching and get your students successfully started on their journey to becoming proficient readers. The diagnostic test and student management tools enable teachers to place students at different reading levels within the program.
Kindergarten/Prep
Reading Eggs begins at an absolute emergent reading level, focusing on letter sounds, first sight words and reading simple sentences. The program is simple to navigate, and the sequential map-by-map format encourages students to stay motivated to complete the lessons.
Each lesson is completely interactive and highly engaging for young learners. The program can be used with groups or the whole class on the IWB or computer as lesson starters that really focus your students' attention.
Year 1
Students can take a placement test to ensure that they are working at a level that matches their reading ability, or teachers can move students to an appropriate reading level. The program can ensure all your students make progress, as it covers a wide range of phonic skills, essential sight words, and comprehension skills in a highly motivating way. Reading Eggs is great for encouraging reluctant readers or helping students who are struggling.
Year 2
Many of the features are excellent for Year 2 students. Make the Story Factory part of your regular writing program; with its weekly contests, it's a great way to get kids writing. The Spelling section focuses on spelling, grammar and vocabulary development.
Support Teacher
Many struggling and reluctant readers really enjoy working on a computer as it allows them to progress at their own pace. The Reading Eggs lessons provide plenty of practice in developing key reading skills and the interesting activities can be repeated as often as needed.
Special Needs
Reading Eggs is used in many special needs classrooms. The bright graphics and repetition work well with a wide range of students. The songs and fun activities make Reading Eggs a rewarding activity, where students experience success and learn key reading skills.
What does a Reading Eggs lesson look like?
Parts 1 and 2 The main lesson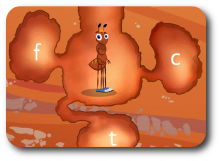 Reading Eggs lessons are made up of a wide variety of interesting activities but each lesson has a consistent format. The first 1 or 2 lesson parts are interactive animations led by our host/teacher, Sam the Ant, or another character. Sam, Jaz, Tom or Meg model the new concept and then ask the child to complete an activity. The student needs to get seven correct responses to progress to the next part of the lesson. Lessons introduce new concepts using constant interactivity which keeps children on-task as they practise and build confidence. New skills are reinforced using carefully designed activities that are highly motivating and promote reading success.
Part 3 Dot-to-dots & Part 4 Letter recognition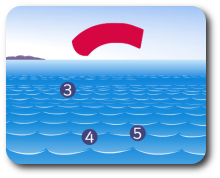 The dot-to-dot activities are a fun way for children to learn correct letter formation. As with drawing the letter shape in the air, the physical act of doing this activity boosts student's memory for the shape of each letter. It also helps counting skills!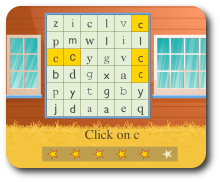 Activity 4, The Letter Grid builds recognition of both capital and lower case letters. In later lessons, this part is replaced by sight word, phonics or spelling activities.
Part 5 Vocabulary & Part 6 The e-books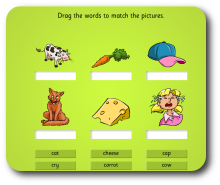 This vocabulary building activity ensures that children know the words used in the reading books.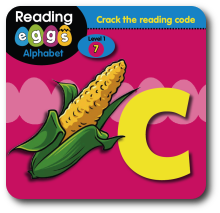 Part 6 is an electronic book, with audio support, that children can read online. Printed versions of these books are also available.
Part 7 The egg hatches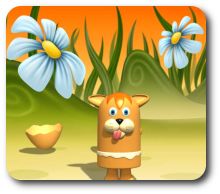 The child is rewarded for completing the lesson with a new creature that hatches and becomes part of their online collection. Each Reading Eggs critter links to the content of the lesson, ie Catty Cake is the Reading Eggs critter for the letter Cc. In the My Critters section of the website a matching card shows that Catty Cake lives on a cosy cushion, is friends with a cow and a camel, eats corn and carrots and loves to cook cakes.
Why do children love learning with Reading Eggs?
The virtual environment is endlessly patient and each child can make real progress at their own pace.
Reading Eggs is infused with a sense of humour and children are surprised and amused by the program. They enjoy the variety of game-like activities, the rewards, the memorable funny songs and the animated characters that become like friends as they progress through the lessons.
Each child can create their own avatar/online character.
Each time a child completes a learning activity they are rewarded with Golden Eggs.
They can then use these Golden Eggs to buy fun and educational games from the Games section.
Children get a real sense of achievement as they progress through each of the eight maps.
They love collecting Critters – a new critter hatches at the end of each lesson.
Best of all, they love mastering the skills of reading!
Other Key Features of Reading Eggs
Children can use the program at home as well as school.
Once a lesson is complete the child can revisit and repeat it as many times as they like.
Children receive a certificate after successfully completing the quiz at the end of each map.
Reading Eggs provides teachers and parents with a simple "dashboard" to show each child's reading progress.
Downloadable Lesson Plans and student worksheets for every lesson.
Teachers can choose the start point for individual students, so that each child can progress at their own level.
What are teachers saying?
Find out what teachers think about Reading Eggs here.
Pricing Information
Pricing information for Reading Eggs is available by contacting ReadingEggs@3plearning.co.nz or by calling our educational team on 09 414 5164 or toll free on 0800 3P LEARN (0800 375 327).