Want the Perfect Last-Minute Gift Idea?
Choose from a 6‑month or 12‑month Gift Voucher to Reading Eggs!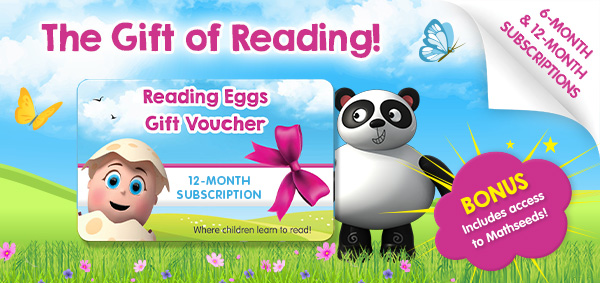 There are only a few days left until Christmas… So if you're looking for the ultimate last‑minute Christmas gift for your loved ones, look no further.
Christmas shopping can be chaotic! So, to keep you out of hot water this Christmas and put you in the "favourite relative" category, we've created 6 and 12‑month gift vouchers for the entire Reading Eggs suite that you can gift to your loved ones!
Take advantage of this amazing Christmas deal and grab a 12‑month voucher for $116.09 or a 6‑month voucher for just $62.27!
The subscription includes access for 6 or 12‑months for up to four children to our five learning programs: Reading Eggs, Reading Eggs Junior, Fast Phonics, Reading Eggspress and Mathseeds.
Plus, Mathseeds features 200 highly engaging maths lessons, exciting rewards, printable worksheets and more! Designed for kids aged 3⁠–⁠9, the fun‑filled learning adventure is designed to teach essential early numeracy skills while nurturing a love of maths.
To get your gift vouchers, simply click "claim now" below.
Fast, proven results that your friends and family will love!
After a few short weeks, 91% of parents report a noticeable improvement
The program is based on scientific research, making it the best choice against other children's apps
Teaches phonics, sight words and other essential literacy skills
Created by expert educators with over 30 years of experience.
Why your friends and family will adore Reading Eggs
Guided lessons are easy to follow and match your child's ability
Over 2500 children's books in the online library
Songs, animations and rewards make learning to read fun
Progress reports let you track your child's growth
Printable certificates celebrate achievement
Tablet and desktop compatible
Fun, online learning that grows with your child from 2⁠–⁠13 years old.
Testimonials
"We are just over the moon with how well Jaye is doing and how much he's enjoying learning! No pushing required." – Jess M.
"Thank you, thank you, thank you! This has been an amazing experience watching my 5‑year‑old really enjoy reading and having such fun. I fully intend to share your program with other parents! Thanks you so much." – Anna Marie
"Thank you for such a wonderful, easy‑to‑use and helpful reading program. My son is 5 years old and loves Reading Eggs. He is very keen to participate and is encouraged tremendously by the reward eggs. He has begun Kindergarten and I was finding it difficult to get him to do his reading homework which concerned me. But now that we have begun Reading Eggs, he is learning more from the computer and is now happy to do his homework too. This is a fabulous program and all children should have a go!" – Sandra