Reading Eggs is more than just a multi‑award winning online reading programme for kids aged 2–13. Children have access to their very own online library, with over 3000 quality children's books right at their fingertips.
The online books feature colourful illustrations and can be read on your tablet or desktop device. There are many different genres to delight children of all ages and reading levels, from simple picture books with read aloud options, all the way up to captivating chapter books for older readers.
3000+ Kids' Books Online: Exploring the Library
Access 3000+ online stories for kids!
Start your free 30-day trial of Reading Eggs and let your child enjoy the children's book library, as well as hundreds of phonics and reading lessons that are fun and highly interactive.
Free Trial
With Reading Eggs, your child will never see any ads or popups as they read or play – it's completely secure and safe for children.
Why Choose Quality Online Children's Stories
Reading opens up magical worlds for children!
Books are powerful tools. The carefully selected books in Reading Eggs teach readers about themes like friendship, families and school, and also interesting topics like history, art, and science. These stories connect readers with people, places and events all around the world.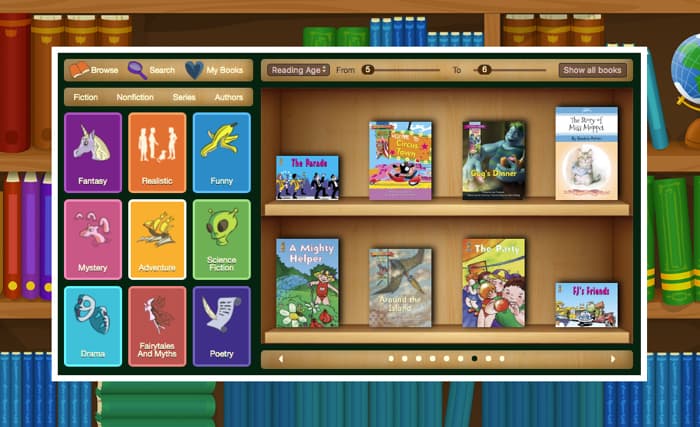 With so much to choose from, it's no wonder that children of all ages are thrilled to read books online. But for parents the idea of online children's books can seem foreign. How do I determine quality? What's the right reading level? And how best do I ensure my child understands what they are reading?
Let's look at four key things to consider when choosing online stories for children.
Utilize the Online Search Functions The Reading Eggs library includes helpful search functions to help you narrow your search for the right book. You can select from nine genres and then you can narrow your search to sort books by reading age or Lexile level. Finding a book at the right level is that easy!

Online Book Features The read aloud audio in Reading Eggs helps children hear fluent, expressive reading. In‑built comprehension quizzes ensure children understand what they are reading. This enhances the reading experience and makes the library an excellent learning tool.

Available on Multiple Devices The books in Reading Eggs can be used on desktop computers, tablet devices and even phones. You can digitally bookmark and come back to the same place, making online books perfect for long flights or car trips. It's about reading your favourite book anywhere, anytime.

Choosing the "Right" Books for Everyone There are several factors to select the "right" books, but for children the most important factor should always be enjoyment. You'll read some books to practise phonics and find some rhyming books perfect for honing phonemic awareness skills. Some books are at the right instructional level and others are perfect for teaching new comprehension skills. There are even books that will help with a life change like a new sibling or moving to a new house. With Reading Eggs, there's truly something for everyone.
How to Help Your Child Choose Books in the Online Library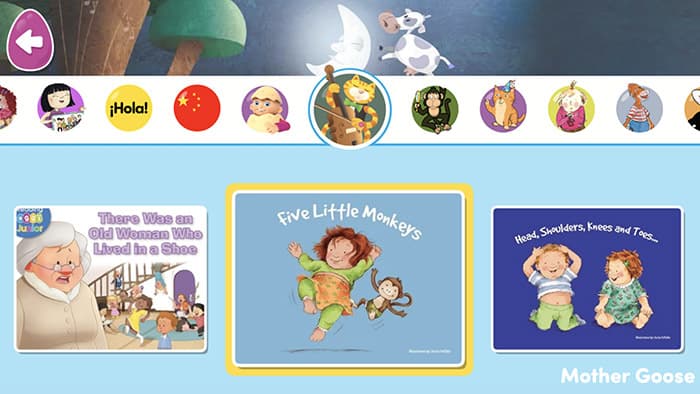 Reading Eggs Junior has beautifully illustrated online stories for younger children, which can all be enjoyed with read‑to‑me audio. Free trial
Early readers For toddlers, select rhyming books to build phonemic awareness and listening skills. Choose nonfiction books about things children connect with daily like toys, animals, food and clothing. Reading Eggs Junior offers a wide range of books specifically to meet the needs of toddlers. Best of all, books have read-aloud audio!

Learning to read When children are ready to learn to read it can be hard to know where to start. Phonically decodable readers are very useful. Children can sound out the words in the books and experience reading success. Reading Eggs has 120 lessons that teach letters and sounds with lots of decodable readers.

Young independent readers Once children move from learning to read to reading to learn, the options for books are seemingly endless. There are chapter books, classics, fiction and nonfiction, graphic novels, plays, poetry and anthologies of short stories.   The Reading Eggs library has over 3000 books for young independent readers. There's something for everyone no matter the level.
At this point, it's important to note that for some children, learning to read can be very difficult. Parents who model reading for pleasure help their children find enjoyment in reading, even when learning to decode is hard.
Access 3000+ online stories for kids!
Start your free 30-day trial of Reading Eggs and let your child enjoy the children's book library, as well as hundreds of phonics and reading lessons that are fun and highly interactive.
Free Trial