Parents can easily support the development of their child's reading skills at home with fun activities. One aspect of learning to read which needs lots of repetition, and is ripe for home attention, is building a sight word bank.
Fluent reading requires quick word recognition so your child is focused on comprehending the text, not decoding words. Research shows that children who build an extensive bank of words that they can retrieve effortlessly by sight will find reading new texts easier and more meaningful.
For sight word practice at home, keep it playful. If your child gets frustrated or loses focus, put the activity aside for another time. Make it multisensory. Listen, look, write, touch, manipulate, make. Fill your child with confidence by using plenty of praise. Correct your child with positive language focused on their success, such as "Well done, you got the 'th' sound. That word is 'the'."
Try the award-winning programme for FREE
Reading Eggs makes learning phonics and sight words easy and fun for children ages 2–13.
Free Trial
Learning sight words
There are two types of sight words that are taught to early learners. Frequently used words come up so often that the first 100 of these generally account for more than 50 per cent of words found in all writing.
Non-phonetic words cannot be decoded using phonics because they do not follow the usual rules, for example, 'buy', 'come', 'one'. They need to be memorised.
Reading researchers have distinguished four phases of development in sight word reading. In the pre-alphabetic phase children are essentially non-readers that recognise visual features of words. In the partial alphabetic phase they make connections between some of the sounds and letters in a word, but this can lead to confusion between similar words.
"Children become full alphabetic phase readers when they can learn sight words by forming complete connections between letters in spellings and phonemes in pronunciations". This is an ideal time for sight word training.
In the final phase, consolidated alphabetic, readers find it easier to memorise more sight words as they have an extensive knowledge of how language is put together.
However, studies have shown that teaching children too many words during a lesson reduces retention. So be sure to limit sessions to just focus on one to three new words, as well as reviewing previously introduced sight words.
Sight words activities
Flash card games
Print or write out two sets of flash cards for your child's sight words.
Memory. Use five to ten words, two sets. Shuffle the cards and lay them face down. Take turns flipping over two cards at a time looking for a matching pair. If they are not a match, turn them back over, but remember which word is where to make a match later in the game. Most pairs wins.
Snap. You need at least 20 words, two sets. Shuffle and deal half the cards to each of two players. The players take turns laying a card face up on a central pile. If the newest card matches the card under it, players race to be the first to place a hand on the pile and yell 'snap'. Fastest person wins.
Go Fish. Use two sets of 20 words. Shuffle and deal five cards to each player (2–4 people). The rest go in a pile. Players look at their cards but hide them from others. Any matching pairs of words are laid down. Each player takes a turn asking someone else if they have a word needed to make a pair. If the answer is yes, the card is handed over and the pair is laid down. If no, the player must 'go fish' and pick up another card from the pile. Most pairs wins.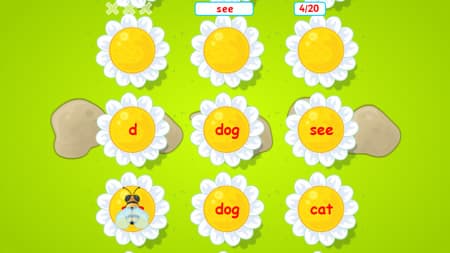 Reading Eggs features interactive activities that make it easy and fun for young children to learn sight words. Free trial.
Multisensory sight words
Sight. Make a word wall. Stick each new sight word to the wall as it is introduced. Children can read the words as a list, refer to the wall when stuck on a word, and mark off the words they know with stickers. Ask them to use words from the wall to write simple sentences such as 'I walk to the …'
Draw boxes to represent the number and size of letters in one word. Ask your child to look at the word wall and work out which word it is. They should then write it in the boxes. For example, 'and' would be:

Touch. Trace a sight word on your child's back and see if they can recognise it. This could be done with whole words or by recognising one letter at a time. Ask your child to use a finger to trace the words on your back, or in paint, in sand, or in the air.
Get crafty. Copy the words with lengths of playdough, pipe cleaners or craft sticks. Cut letters out of playdough with alphabet cookie cutters to make the words. Paint the words. Write in chalk on a blackboard, the driveway or footpath. Use letter stamps with ink or paint.
Hearing. Say a sight word out loud and ask your child to point to that word on the word wall or tap it with a fly swatter. Another option is to have laminated flash cards, stick them to a wall outside or in the bathroom and give your child a water pistol to shoot the word they hear.
Listen to an audio book or podcast for children. Ask your child to close their eyes and listen carefully. When they hear a word they know, they hit the pause button and write out the word or select it from their word list.
Sight words in context
Ask your child to find their sight words in a book. You could read the book to them and ask them to point to words they recognise. Ask them to read those words. You could look for a specific common word such as 'the' while you read. Count how many times it turns up. Or pause your reading when you get to a word they know. They have to read the word for you before the story continues.
Have your child use their sight words in a sentence to show you that they know the meaning and correct usage for the word. They could tell you a sentence verbally or write one down. The important thing is to make sure the word is used correctly in context.
Write five simple sentences with missing words and lay out cards for the five missing words. Ask your child to put the words into the sentences, and then read them back to you to check they are right. You could also photocopy a page from a favourite book and white out some sight words in the text. Ask your child to write the missing sight words in. Be sure to reread and discuss their choices.
Reading Eggs: working on sight words at home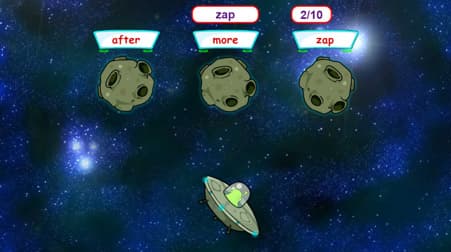 Reading Eggs features plenty of fun sight word activities that are interactive and rewarding for young children. Free trial.
Another way to support your child practising their sight words at home is with an online programme your child can access through a computer or tablet. Reading Eggs is a structured online learn-to-read programme that offers personalised instruction in an engaging manner.
The Reading Eggs programme teaches phonemic skills and also focuses on high frequency sight words. It helps children recognise and instantly recall a core list of high-frequency sight words. This builds fluency in young readers and enables readers to read for meaning in a text.
Each lesson in Reading Eggs begins with an animation where fun characters explain a particular element of the English language—sounds, letters, rimes, sight words, spelling rules, and more. The interactive activities that follow provide the repetition needed for the skills and knowledge to become part of the child's long term memory, without letting them get bored.
Many of the learning activities within the Reading Eggs programme help children instantly recall and read an increasing bank of high-frequency sight words. Young readers have the perfect place to practice their sight words, as each lesson ends with a book matched to the student's current ability. The Reading Eggs story books and nonfiction titles are written to give children opportunities to read an extended text, to practice both the letter-sound correspondences as well as the sight words they have been learning.
Try the award-winning programme for FREE
Reading Eggs is the multi-award winning programme that helps your child learn to read in just weeks!
Free Trial
In the Reading Eggs library there are over 3000 levelled books for your child to choose from when reading for pleasure. They can choose to read the book themselves, have the book read to them and reread the book as many times as they like.
Importantly, Reading Eggs rewards children at every step, with congratulatory sounds and messages, with eggs and points and cards to be collected, with critters to earn, and certificates to be printed. Your child will grow in confidence as well as building their reading skills.
See how Reading Eggs works
We offer all new parents a free trial to see how Reading Eggs works for their child.
It only takes a few minutes to get started.
Try Reading Eggs here to see how your child's reading and comprehension skills can improve in just weeks.
Reading Eggs testimonials
"Our speaking-delayed son is loving Reading Eggs and is adding lots of new words to his sight and spoken vocabulary daily. He has earned over 9000 eggs - that is a lot of lessons completed. He is confidently navigating around the map selecting lessons and the extra activities - all independently. I have recommended Reading Eggs to his preschool teacher and other parents." 

- Brian
"My Year 1 son truly enjoys his time on Reading Eggs. It has helped him in particular with sight words, word families, fluency, and confidence. He loves to hatch his new characters and collect the golden eggs. The beginning evaluation accurately placed him at the correct level, allowing him to be successful and challenged." 

- Anne S.
---
Pope, J. (2016) The Use of a Technology Tool in Reading in Order to Escalate the Acquisition of Sight Words into Long Term Memory for First Grade Students (Doctoral dissertation). Retrieved from ProQuest Dissertations Publishing (Accession No. 10240292)
Ehri, L.C. (2005) Learning to Read Words: Theory, Findings, and Issues. Scientific Studies of Reading, 9(2), 167-188, DOI: 10.1207/s1532799xssr0902_4, retrieved from http://www.tandfonline.com/doi/abs/10.1207/s1532799xssr0902_4
Taylor, C.N., Aguilar, L., Burns, M.K., Preast, J.L., Warmbold-Brann, K. (2017) Reliability and Relationship to Retention of Assessing an Acquisition Rate for Sight Words With Kindergarten Students. Journal of Psychoeducational Assessment, May 2017, retrieved from http://journals.sagepub.com/doi/10.1177/0734282917707144