Back to Articles
What Age Should a Child Read?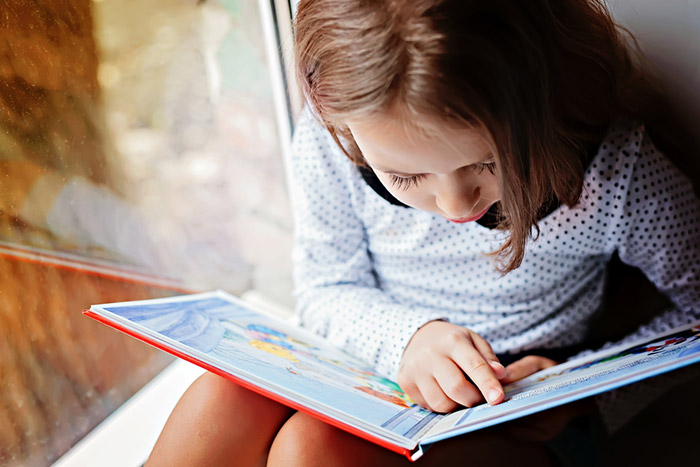 Learning to read is one of the most challenging skills a child will learn. It involves a number of skills and processes. These take time to develop as it means teaching the brain new functions.
Like many developmental milestones there are key stages, but children will vary in age when they learn to independently read. Some children learn to read at 4 or 5 years of age. But most will get the hang of it by age 6 or 7. There's a lot you can do to help your child be in the best position when they are ready to learn to read.
Try Reading Eggs for FREE today!
Reading Eggs is the multi-award winning online learning programme that teaches children how to read in just 15 minutes a day. Join 10 million users worldwide and try it for FREE!
Research shows many key early reading skills develop from birth to age 5. It is essential to set up a strong foundation of language development, cultivated through lots of playful conversation, story time and read-alouds. Here are 7 steps to help your child learn to read.
Context
Start with something children can relate to, such as their name. This helps them to learn letters and their corresponding sounds in context. Talk about the way the letters look, sound and feel. Encourage your child to make the letters using play dough or magnetic letters etc. Show your child how each letter makes its own sound but when you put them all together they make your child's name.
Non-Alphabetical Order
Try to avoid starting from 'a' and working through every single letter in alphabetical order. Instead, aim to teach your child letters that can quickly combine to make real words. See if there are any little words you can make from just the letters of your child's name. In the first four lessons, the Reading Eggs programme introduces the letters and sounds

/

m

/

/

s

/

/

a

/

/

t

/

, which means children can soon read the words 'a', 'at', 'am' 'as' 'mat', 'sat' and 'Sam'.
Letters and Sounds
Start by introducing lowercase letters as these make up the majority of the print we read. Encourage your child to identify the focus letter and its sound in other texts and the environment around them. You can also have some fun making up mnemonics, actions and images to help your child build instant recall. These activities help to develop phonemic awareness and the understanding that words are made up of letters and that every letter has a corresponding sound.
Blending
Once your child can recognise a handful of letters, it's time to start blending. This is done by sounding out each letter and then blending the word all the way through from the first letter to the last. Stick to simple CVC (consonant-vowel-consonant) words to start with. For example,

/

d

/

/

o

/

/

g

/

when blended together makes the word 'dog'.
Building Vocabulary
Help your child build their reading vocabulary. Introduce more letters, sounds and ultimately new words. Encourage your child to put their budding skills to work by reading simple texts and captions. The Reading Eggs programme has over 2500 e‑books to help your child build their reading confidence. Start your free trial here.
Writing
As well as learning to break words into sounds for reading, it's a good idea to encourage your child to put sounds back together in order to spell words. This is called 'encoding' and works alongside the reading process. Try asking your child to have fun sound‑talking words, such as "Where is my b‑a‑g?" "This is my h‑a‑t." Then ask them to write the words using magnetic letters, crayons, pencils or paint.
Praise
Get excited by their achievements. Praise, reward and take their reading and writing seriously. Display their work on the walls or the fridge and let your child see that you value their efforts. Congratulate them as they continue on their incredible reading journey.
Try Reading Eggs for FREE today!
Reading Eggs makes learning to read easy and fun with self-paced online lessons, interactive activities and exciting rewards that motivate children to improve their skills. Start your free trial of the multi‑award winning program today.